Puerto Galera is a special place that tempts even the most jaded travel writers to use the tired old P-word.
Freeman Washington - In Depth
Best Prices on Puerto Galera Accommodation
Whether you're into super-cheap bungalows, small, casual and VERY affordable B & Bs or more pricey upscale resorts, Action Divers has the right deal for you. Get into Action and discover the best bargains not only in Puerto Galera but anywhere in south east Asia.
Out of the Blue Resort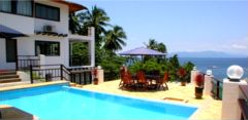 Situated just above Action Divers, Out of the Blue Resort offers the best accommodation in Puerto Galera, plus unrivalled panoramic sea views. Featuring a blend of classical Filipino and Mediterranean architecture with all the expected modern western conveniences, the combination of superior accommodation, great food and award winning service has made Out of the Blue Resort a favorite of many return guests. Choose from 1, 2 & 3 bedroom private villas, suites or economy studios. more...
'Get into Action' Special: PG Bungalows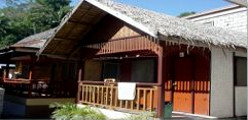 Traveling on a tight budget or planning to stay longer? How about a clean little bungalow/cottage owned and operated by local Puerto Galera families. The cottages have private bathrooms, Cable TV, refrigerator and kitchen facilities which makes them ideal for a long term stay. And for the price of one night at the fancy resorts, you can stay for a month!!! more...