Conveniently located just above and behind Action Divers, Out of the Blue Resort offers the best accommodation in Puerto Galera, plus unrivaled panoramic sea views. Choose from 1, 2 and 3 bedroom villas, 4 spa suites and an economy studio. All come with "split-air" type air conditioning, free WiFi, flat screen digital TVs, audio/video equipment, cable TV, in-room safes, in-room phones and free daily personal laundry. And most villas have fully equipped kitchens. More than just another predictable resort, Out of the Blue offers guests a unique combination of villa-style privacy, spectacular ocean views, quiet relaxation by either of the two pools and gourmet cuisine and fine wines in The Verandah, the resort's renowned restaurant.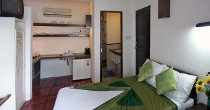 Economy Studio: $75*
Air-conditioned 25 sq metre studio with kitchenette. Situated adjacent to Out of the Blue's upper pool and great value for the budget conscious. Book it!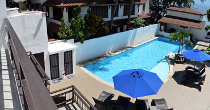 Poolview Spa Suite: $125*
Overlooking Out of the Blue's lower level 16m pool and poolside bar- choose from two fully air-conditioned, 45 sq metre spa suites, each with sea views and a private jacuzzi situated within an enclosed terrace adjacent to the living and bedroom area. Book it!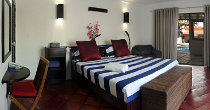 Poolside Spa Suite: $140*
Located next to Out of the Blue's lower level 16-metre swimming pool - choose from two fully air-conditioned, 45 sq metre spa suites. Each suite has its own indoor spa, plus a private, outdoor poolside patio complete with sun loungers. Book it!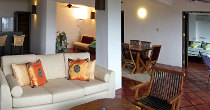 One-bedroom Premium Villa: $155 - $160*
Conveniently situated near the upper pool and restaurant, the villa is fully air-conditioned with panoramic sea views from all rooms. The fully equipped kitchen, separate shower and bath, digital LED TVs and audio equipment in both the lounge and bedroom add up to the perfect get away. Book it!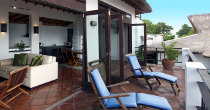 Two-bedroom Premium Villa: $240 - $250*
A fully air conditioned villa of 120 sq. meters, with 2 master bedrooms and large private balcony overlooking the upper pool deck with wonderful bay views from all rooms. The villa has its own kitchen and dining area and features wall-to-wall glass doors open from the living area onto a large, private balcony. Each master bedroom has a king size bed (2 single beds if preferred) and its own en-suite with shower and bath. Book it!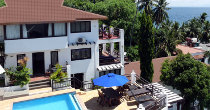 Three-bedroom Premium Villa: $345 - $355*
Situated adjacent to the upper pool with spectacular views from its two large patios, this 225+ sq metre two story, three bedroom, two bathroom premium villa is the resort's second largest and most popular villa. The villa has family-friendly TV / AV systems on both the lower and upper floors and also in the master bedroom. Its many repeat guests consider it their home away from home. Book it!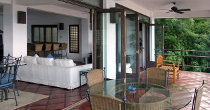 Four-bedroom Premium Villa: $415 - $425*
Aimed at the larger family group, the four-bedroom, three bathroom premium villa is comprised of the three-bedroom villa and the economy studio (connected by an internal door) resulting in an incomparable 4 bedroom villa of 250 sq metres with fabulous sea views from both floors. Book it!